The end of the 39th edition of RIMOUSKI'S CARROUSEL INTERNATIONAL DU FILM has come!
THANK YOU !!! For this incredible 39th edition!
–
AWARDS WINNERS OF THE 39TH EDITION OF THE RIMOSKI INTERNATIONAL FILM CAROUSEL
The Best Children's Short Film award goes to Stéphane Aubier and Vincent Patar for Panique au village – Les grands vacances (Belgium)
Mentions:
Mama It's Raining A Lot by Hugo De Faucompret (France)
Battery Dady by Seung-Bae Jeon (South Korea)
The award for Best Teen Short Film goes to Claire Sichez for L'amour en plan (France)
Mentions:
My Jukebox by Florentine Grelier (France)
Ole, Benni und der Rest of the Universums by Anna Ludwig (Germany)
The award for Best School Short Film goes to Manon Testud for On ne tue never par amour (Quebec)
The André-Mélançon Award, given to the best Québec short film by an emerging filmmaker, is awarded to Anthony Coveney for Oeil pour oeil (Quebec)
Finally, the three winners of the Magic Lantern are: Lily Villeneuve, Elisa Reymond Cambefort and Adèle Therrien
Our congratulations to the winners!
Extension of the festival in Tënk with two documentaries from Quebec!
Are you sad because the last edition of Le Carrousel is over? Dry your tears! Thanks to Tënk, you can watch two documentaries from Quebec to expand our 39th edition and satisfy your love for youth cinema.
Make the Clarissa Rebouças bridge
This cultural mediation project, carried out by Spira and the Joujouthèque de la Basse-ville, aims to create short films with young people from the central neighborhoods of Quebec City. Clarissa Rebouças and the children reflected on the possibilities of uniting people from different backgrounds.
Watch
Wandering Without Return by Mélanie Carrier and Olivier Higgins
The documentary Errance sans retour offers a poetic, immersive and powerful look at the world's most populous refugee camp, Kutupalong. In 2017, in a matter of months, 700,000 people from the Rohingya Muslim minority fled Myanmar (formerly Burma) to escape genocide and seek asylum in Bangladesh. Between poetry and nightmares, food distribution and football matches, the Rohingyas of the Kutupalong camp bear witness to their daily lives and the ghosts of the past.
Watch
Reminder: Current Call for Applications for the Adam-Pajot-Gendron Scholarship
The Adam-Pajot-Gendron Grant is a development assistance grant for a youth documentary project directed by an emerging filmmaker. It offers $2,000 in cash as well as $8,500 in rental, tutoring and outreach services through our partners SPIRA, SCAM and Tënk.
This scholarship is a tribute to the memory of Adam Pajot Gendron, creator and producer of the Tortuga films, former chairman of the board of directors of the Carrousel international du film de Rimouski and a filmmaker involved in his region in Bas-Saint-Laurent. and for pop-up creation.
For more information?
Submit your request
We tell you until next year!
In 2023, it will be the 40th anniversary of Rimouski's Carrousel international du film. The team, which is already looking forward to seeing you again, is preparing to prepare a more than unforgettable edition for the occasion. I can't wait to see you again next spring to celebrate youth cinema again!
Thanks to our valued partners for this successful 39th edition!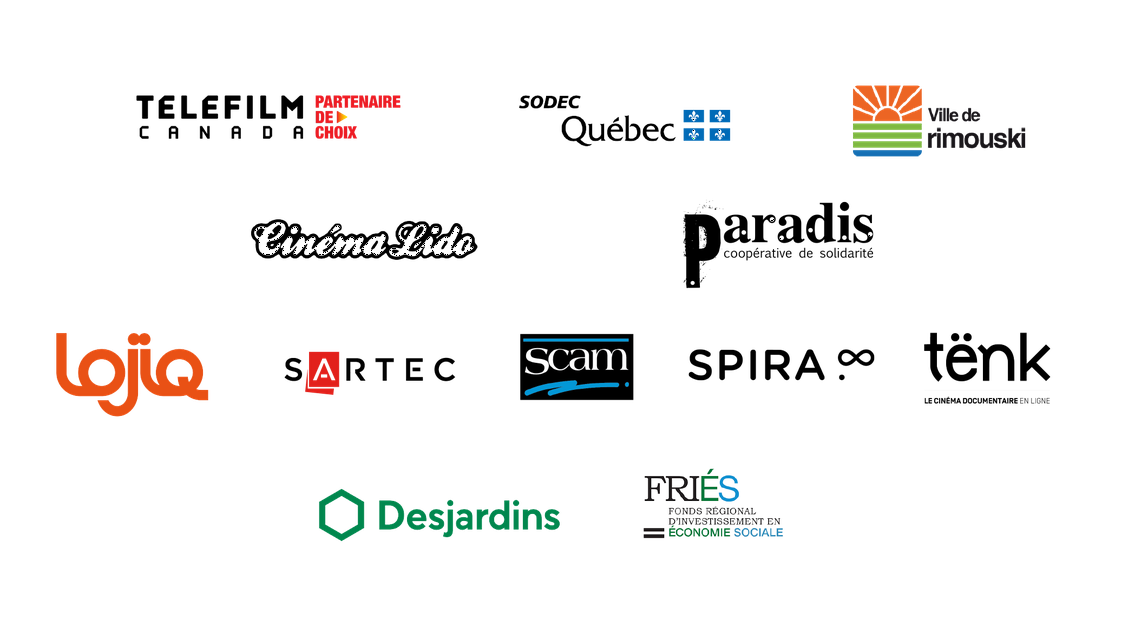 ***