The video where Minister Catherine Kathungu is on the dance floor with Félix Wazekwa, dancing to the tune of Koffi Olomide, by itself would not have been enough to convince music lovers. Sure enough, Mokuwa Bongo and Young Pato pleasantly surprised their fans, making friendly gestures that no one expected. First the hug and then seeing them sitting next to each other and holding hands has definitively dispelled any doubts about the new turn that the tumultuous relationship they have had for more than a decade has just taken, much to the chagrin of music lovers and their personal fans. .
In the program for the evening published and distributed to the press the day before the April 24 demonstration, nowhere did the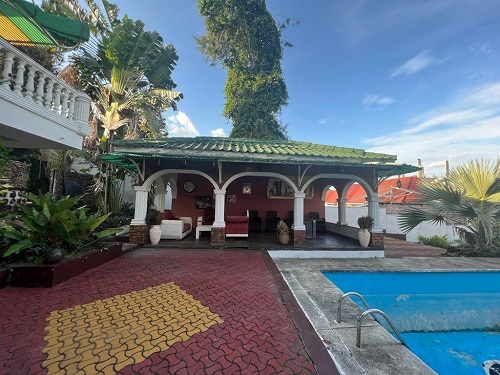 name of Koffi Olomide. Planned by Félix Wazekwa at the request of the Minister of Culture, Arts and Heritage, the organization of the commemoration of the six years since the death of Papa Wemba began in the morning with the laying of floral offerings on his tomb in the Necropolis Entre earth and sky, culminating in the Pullman concert. The passage to the former house of the illustrious deceased destined for a museum was the intermediate between both. Minister Catherine Kathungu was accompanied by some musicians and friends of Papa Wemba, in particular Felix Wazekwa, Jadot the Cambodian and Reddy Amisi. In the place, a relative of the family shared in the "Messenger of Kinshasa" an unprecedented observation. "We have noticed, on each anniversary of Papa Wemba's death, that the neighborhood dogs, which are usually calm, often bark. You listen to them now, they do it by episode, it's been going on since morning. There will be a hiatus for a while, but they will pick up later as they are doing now.said Papa Mao. And he added he, pointing to the white poodle lying in the yard, "Even Queeny is getting involved and since yesterday she hasn't eaten anything, today she refused to eat. But above all, since the death of her teacher, she has lost the joy of living. He was very mischievous when he was alive and would run in all directions, which he doesn't do anymore. Is to believe that he is in mourning".
Several artists followed one another on the podium of the tribute concert offered in the afternoon at the Pullman, starting with the former members of Viva la Música, such as Jadot the Cambodian and Reddy Amisi. Koffi Olomide, until now excluded, was this time. Until now only in the celebration of April 24, Viva la Música was grateful that this year the tribute was general, extended to several local orchestras and given in the same place.