Gathering in the United Nations General Assembly Hall for the first time in three years, the indigenous representatives were received in a traditional ceremony led by Katsenhaiton Lazare, of the Haudenosaunee Mohawk Bear Clan, who recognized nature in its great diversity : the winds, thunder, lightning, sun and other vital forces – that give purpose and protection to humanity, before invoking the generations of traditional ancestors who still have much to offer to today's societies.
This invocation was part of the theme of the twenty-first session of the Forum – "Indigenous peoples, companies, autonomy and human rights principles related to due diligence, including free, prior and informed" – and the launch of the International Decade of Indigenous Languages, 2022-2032.
An infinity of sacred stories
In his opening speech, the president of the Forum, Darío José Mejía Montalvo, from Colombia, said that the 2022 theme touches on the visions of the cosmos through which indigenous peoples have developed their food, culture and coexistence with nature in their territories.
"We share a holistic relationship with nature, where rights are not anthropocentric," he explained. "An infinity of stories and sacred stories underlie our visions of the world."
The ancestors also have rights – even the right to exist – because their task is perennial in the preservation of life. These ancestral practices maintain life in all its forms, with dignity.
For this reason, according to him, the question of whether indigenous knowledge is scientific is "meaningless": the notions of life, energy and spirituality are synonymous. Separating them from an economic, religious or other point of view leads to unnecessary confusion, disputes and confrontations.
UNODC/Laura Rodriguez Navarro
The Arhuaco indigenous community in Colombia harvests sugar cane.
Ignore prior consents
According to him, although the rights of indigenous peoples to self-determination, to land, to resources and, above all, to free, prior and informed consent are guaranteed by international standards, these rights are often not implemented, even in countries where they are legally recognized. Rather, they are routinely violated when logging, timber, mining, and mega-dam contracts are awarded.
The plundering of its resources, the loss of its ways of life, cultures and languages, and the disappearance and assassination of its leaders are the result of nefarious corporate activities.
Mr. Mejía Montalvo said that if the current energy matrix is ​​not changed, the extermination of indigenous peoples, the expropriation of their lands and the marginalization of their rights will continue.
Urged states to contribute to the development of a legally binding instrument to regulate transnational business activities, one that adheres to international human rights and includes explicit provisions on the rights of indigenous peoples to their lands, territory and resources, and for their freedom, prior and informed consent on the decisions that concern them.
He described the Declaration on the Rights of Indigenous Peoples and Convention 169 of the International Labor Organization (ILO) as "ground rules" in this regard, warning that industries from fashion and media to textiles to food and pharmaceutical production, perpetuate the "enclave". economic models", which expropriate indigenous peoples of their knowledge and practices.
"All of these efforts need to be linked and intensified," he said.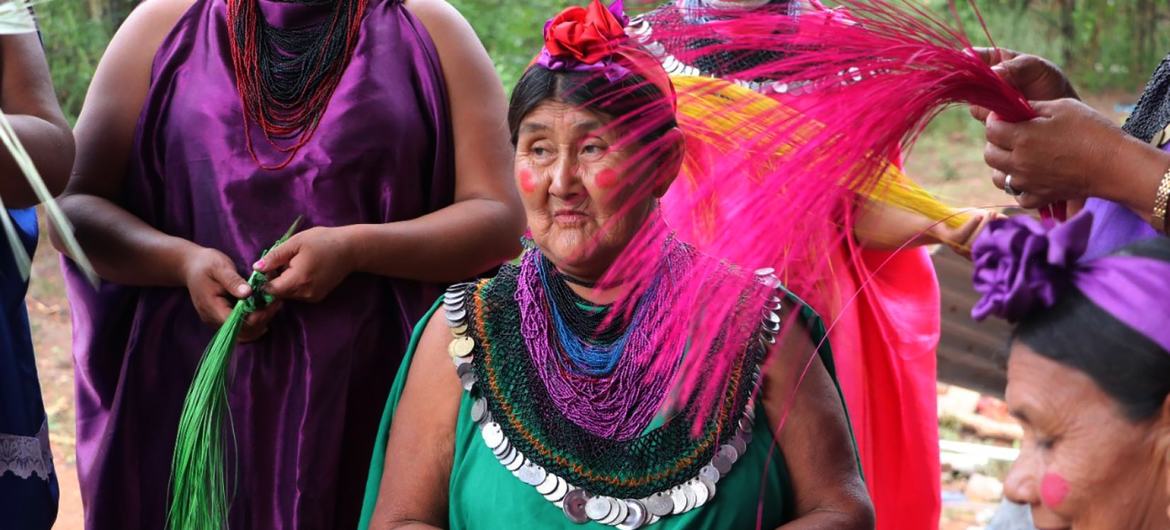 PAM Bolivia/Anani Chavez
A Guarani indigenous woman from the community of Tentaguasu in the Bolivian Chaco weaving with palm leaves, December 2021.
Traditional models show the way
The president of the United Nations General Assembly, Abdulla Shahid, said that for generations indigenous communities have prioritized a relationship with nature, based on kinship, centered on reciprocity and full of reverence.
"By emulating their example on a larger scale, we can preserve the Earth's rich biodiversity and diverse landscapes," Shahid said.
Noting that indigenous peoples make up less than 5% of the world's population, yet they protect 80% of the world's biodiversity, noting that great linguistic diversity occurs where the conditions for biological diversity thrive. "It is the wealth of one that sustains the other," she explained.
Shahid said there is growing scientific evidence that indigenous languages, rich in oral traditions, offer evidence of events that occurred thousands of years ago.
"By preserving and promoting these languages, we are preserving and promoting an important part of our human heritage, our identity and our belonging," he said. "We have an obligation to ensure that they can participate in and benefit from the work of the United Nations."
Also addressing the participants, the President of the United Nations Economic and Social Council, Collen Vixen Kelapile, said that the expert advice of the Forum – as an advisory body to the Council – is crucial in bringing to light the key issues affecting Indigenous villages.
He said the High-Level Political Forum on Sustainable Development, due to take place in July and which will include national reviews from 45 member states, will provide an important opportunity for indigenous peoples to present their traditional knowledge on biodiversity, climate change and climate change. environmental management.
Mr. Kelapile urged Member States to seek their participation, adding: "I look forward to your recommendations, which should be incorporated into the different platforms of the Council."
Manage more, own less
The UN Under-Secretary-General for Economic and Social Affairs, Liu Zhenmin, in a message delivered by the Under-Secretary-General for Policy Coordination and Inter-institutional Affairs, Maria-Francesca Spatolisano, highlighted that indigenous peoples traditionally claim and manage more than 50% of the planet's land, but legally own only 10%.
As a result, 40% of the earth's surface (five billion hectares) remains vulnerable to land grabbing and environmental destruction. When indigenous communities resist these actions, they often face extreme reprisals.
He cited a 2020 analysis that revealed 331 human rights defenders were killed, 26% of them while defending the rights of indigenous peoples, calling the figures "alarming".
UN entities are working together to improve their response, he said, strengthening their engagement with country teams and looking for ways to strengthen indigenous peoples' participation in UN processes.