The event, held at the Olympic Stadium, was an opportunity for Montrealers to shop and buy gifts during the holiday season.
No less than 180 professional artisans attended this edition, which the organizers presented as festive, urban, fashionable and eco-responsible under the motto Find the art here.
Previous editions of this fair have been held at the Palais des Congrès in Montreal, but this year the venue was occupied by the UN Biodiversity Summit (COP15), which took place from December 7 to 19, 2022.
For Julien Silvestre, director general of the Conseil des métiers d'art du Québec (CMAQ), which organizes the annual event Quebec Craft FairSMAQ, Although the change of location came late in the process of organizing our event, which receives close to 100,000 visitors, our team has done everything possible to ensure a good organization of this edition..
This fair is the largest trade show for locally made products in Canada. This is the best place to meet artists and artisans whose business models meet most of the sustainable development goals proposed by the United Nations.emphasizes Mr. Silvestre.
He also believes that the craft can inspire conservationists.
Crafts should serve as an example at COP15 in terms of a sustainable and responsible economy, while promoting on a large scale the values ​​that artisans have humbly borne for a long time and that contribute to Quebec's environmental resilience and smart territorial development. and Canada. .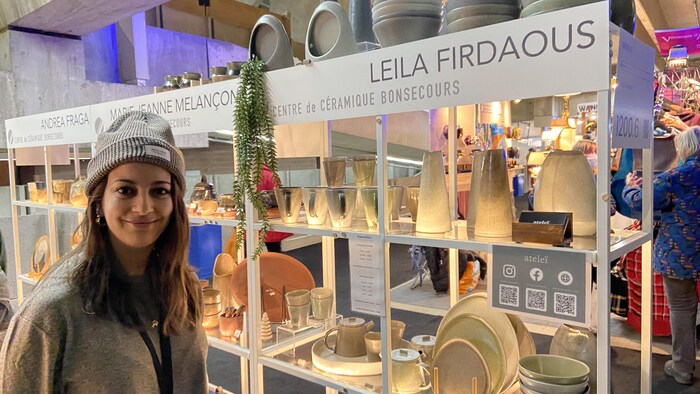 It was the first participation of Leila Firdaous in the Quebec Craft FairSMAQ. Last summer, she completed a three-year ceramics program. She is also a graduate of the University of Quebec in Montreal (UQAM) in visual and media arts.
In an interview with Radio Canada International (RCI), he explained that his artistic creations lacked a tangible aspect.
I wanted my creations to be useful, and ceramics seemed to me to represent a balance between the creative side and the utilitarian side.says the young woman born in Quebec to Moroccan parents.
She explains that her Moroccan origins had a huge impact on her creativity.
I often visit Morocco. Ceramics are an integral part of Moroccan culture. There is a lot of zellige (an ornamental mosaic). When we walk through the markets, we discover a lot of handicraftsshe says.
At her stand, Ms. Firdaous displays porcelain tableware. She explains that she would like to eventually work in zellige that can be integrated into the decorative aspect of the kitchen and around the fireplace, for example.
As for his presence in Quebec Craft FairSMAQHe says that it allows him to publicize his products.
My presence at the fair gives me visibility and proximity to clients and allows me to exchange with other artisans. It is the human side.
People like to buy local handicrafts for Christmas gifts.she adds.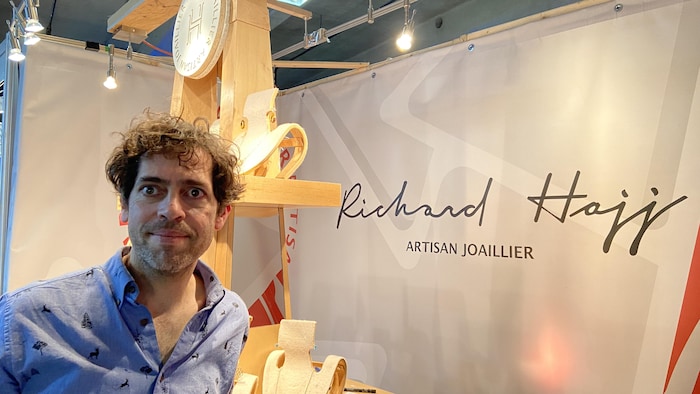 For his part, Richard Hajj exhibited handmade jewelry that he designed himself.
Born in Quebec to a Québécois mother and an Egyptian father of Lebanese origin, Mr. Hajj studied jewelry and then cabinetmaking.
This allowed him to make handcrafted jewelry out of wood, various materials, and silver.
I developed a style of work a little different from what we usually seesays Mr. Hajj.
The jewelery artisan learned his trade from his father, who was a goldsmith and had his own workshop in Cairo before immigrating to Canada.
Thanks to my father, I got to know jewelry. But I chose the artistic side instead of the manufacturing one.he adds.
Mr. Hajj sells his products online. He is also part of a group of artisans who have a common shop in Old Montreal. The craftsman considers it important to be present at the Craft Fair.
The fair allows us to meet people and find out what they want. It is also a sales incentive, especially since it is organized before Christmas.
Note: This report is also available in Arabic and has been translated into French by Fadi Harouny.